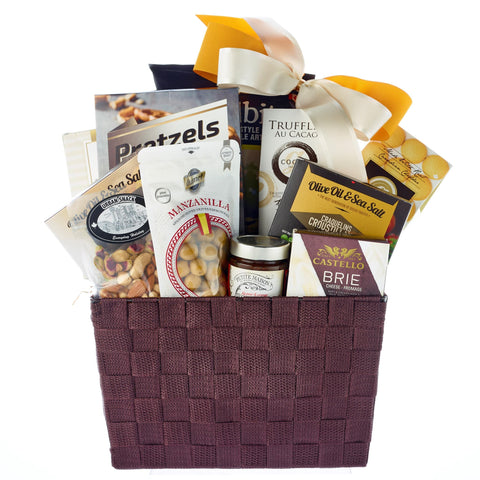 Classic Snack Basket
Description:
For discerning palates, this elegant wicker basket is filled with savory treats that are sure to please. It's the perfect hostess gift that will add to any party or corporate occasion. Basket designed for those with a passion for great gourmet treats, bursting with everything needed to entertain. Party favors are packaged in a great wicker basket.
This basket includes:
Comfort Collection Caramel Popcorn, Aunt Gloria's Sugar Cookies, Brown & Haley Cashew Roca, Pizazz Fruit Jellies, Chocolate Taffy, Comfort Collection Cocoa Chocolate Supreme, Ghirardelli Dark Chocolate, Tago Caramel Wafers.
The item pictured is a depiction of an arrangement that we will make as similar as possible with the same look and feel.