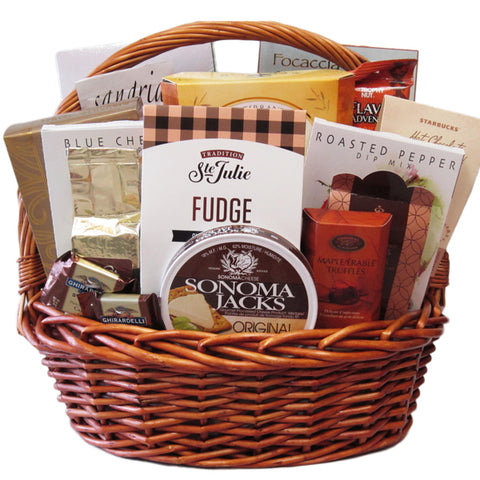 DELUXE GOURMET
Description:
For those picky eaters, there is the Deluxe Gourmet food basket. It would make a grand gift for nearly any occasion - and a wanted one as well. This gourmet basket combines the best of all worlds in one convenient package.
The basket includes:
Aunt Gloria's Sesame Water Crackers, Bite-Size Chocolate Chip Cookies, Comfort Collection Chocolate Fudge, Chocolate Pretzels, Barista's Best Cappuccino, Walkers Nonsuch Chocolate Toffee, Chocolate Truffles, Canada True Maple Cookies, Chocolate Taffy, Pirouline Chocolate Cream Filled Wafers, Roasted Almonds, Sister's Tea (India), Ghirardelli Chocolate - Dark Chocolate, 2 Lindt Lindor Truffles Singles, It's All About Chocolate Truffles, Tago Wafers - Caramel, Worlds Finest Chocolate - Double Chocolate
The item pictured is a depiction of an arrangement that we will make as similar as possible with the same look and feel.